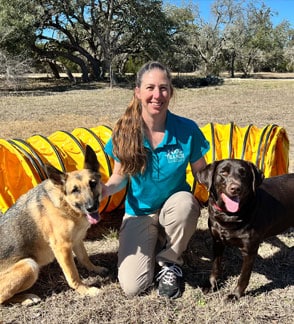 Director of Training, CBCC, CPDT-KA, AKC CGC Evaluator
Lydia joined the team in 2018. She has a background in riding and training horses and earned an Animal Science degree at Texas A & M and earned her Certification in Professional Dog Training in 2019, and Behavior Consultant Certification in 2021. Lydia is an avid learner and believes that each animal we encounter has a lesson for us. Both dogs and horses have the amazing ability to show us the truths in life: "being present, authentic, patient and kind". Lydia enjoys training and competing her personal dogs in Dock Diving, Agility, and Scent work. Her current pups include Labrador Rey (TKN, UKC JR Dock), GSD Bug (current agility partner trialing in 2023), and new to the family Ember the Doberman puppy who will be training in Agility, Rally-O and Scent work.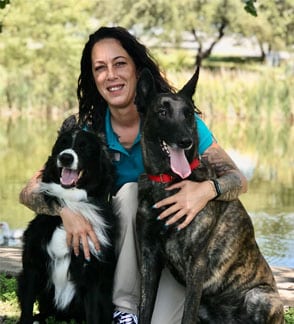 CPDT-KA, AKC CGC Evaluator
Danielle joined The Dog Ranch at Liberty Hill team in 2022. She is a Veteran Military Working dog handler. After leaving the service she trained service dogs for veterans. She has an Associates Degree in Psychology and continues to further her education in the training realm. Danielle has 3 working dogs Belgian Malinois/Dutch Shepherd cross Ggogon that she adopted from the military, an Australian Shepherd Eros she trains in agility, and recently adopted Belgian Malinois Anubis. In her off time she loves to take her dogs on adventures and hiking. Danielle believes that every dog has something to teach us if we are willing to listen.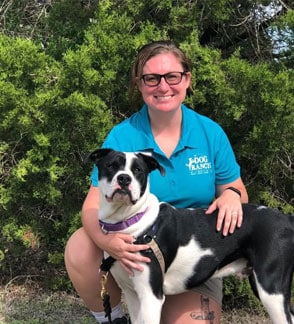 CPDT-KA, CTDI & AACE, Certified Trick Dog Instructor, Animal Actor Certified Evaluator
Courtney joined The Dog Ranch team in 2021. Her love of animals, especially of livestock and dogs, comes from an early age growing up and working on her family's ranch. She graduated from Hill College with a degree in Liberal Arts based in Biology, Agriculture, and Equine Sciences. She competed in Rodeo events at a Collegiate Level and continues to partake in Rodeo both as part of a production team and Professional Level Competitor. She absolutely loves to take on the challenge of learning new skills and sharing that joy of learning with others. She believes that every dog is a unique and amazing individual that bring a special joy to life. One of her passions is working with dogs and their humans to show them how to bring fun and learning into their lives. When not at work she enjoys spending time with her family on the ranch and with her 2 horses Fancy & Fern as well as her dogs - Beaudreax the Border Collie, Sabot the Catahoula, Jet Li an All American Dog, and Calamity Jane a Miniature Australian Shepherd. 
CPDT-KA, Certified AKC CGC Evaluator
Jana, owner of The Dog Ranch at Liberty Hill, has over a two decades of experience helping dogs and their people solve problems, meet learning goals, improve relationships and achieve positive change. Jana knows from personal experience the stresses and joys of living with and rehabilitating dogs with behavior problems. She brings understanding, enthusiasm, resourcefulness and a spirit of play to her work with dogs and people. Jana's goal is to help make your relationship with your dog a fun and rewarding one, whether you want an indoor companion, an athletic performance dog, or a foot warmer. The Dog Ranch at Liberty Hill allows her to pursue her dream of teaching people about how humans and dogs think and how they can work together. Her goal is to educate each client on what truly motivates their dog and improve their relationship and connection with each other. Jana believes that there is always more to learn, do, experience and improve upon regarding our knowledge and skills. She continues to work and learn from other talented trainers, regularly attends seminars and workshops and eagerly participates in various animal educational experiences. Jana enjoys spending time on her farm with her horses, chickens, cats and dogs. Her dogs are Mango - a Belgian Malinois mix, Odds- a Rhodesian Ridgeback, and Fig – a Border Terrier.